Amazon has been granted a patent by the United States Patent and Trademark Office for a big flying warehouse equipped with drones that can deliver goods.
The 'airborne fulfillment center' (AFC) would float at an altitude of around 45,000 feet, will be stocked with lots of products and will only consume little power because the drone would be flying rather than having to take off and land.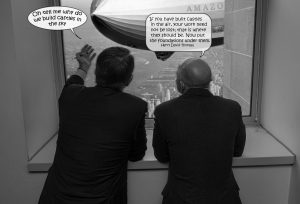 Bildquellen
Ash_Carter_meets_with_Jeff_Bezos: In the foreground of the picture "von DoD photo by Senior Master Sgt. Adrian Cadiz (Released) [Public domain oder Public domain], via Wikimedia Commons" Outside: Composition from "Rost&Wachs"